Custom Plaque Awards – Championship Awards Group
Custom Plaque Awards are an excellent way to recognize individuals and organizations for special achievements or milestones. Plaques come in a variety of styles, sizes, and materials, making them an ideal choice for any type of recognition.

Whether you need something small and affordable to celebrate a big accomplishment or a large-scale plaque with custom engraving to highlight the most important events in your organization, custom plaque awards provide a beautiful and lasting way to showcase the importance of your awardees.
Our Unique and Customizable Plaque Awards for Any Occasion:
At Championship Award Group, Our custom plaques can be personalized with engraving in any font or language. We also offer a variety of customization options such as adding logos, photos, names, quotes, or any other message you'd like to add.

Our personalized plaques are made with premium materials and craftsmanship, ensuring a truly unique award that will be cherished for years to come. Let your team, customers, and loyal employees know how much you value their hard work! Show your appreciation with a unique plaque or award to commemorate every outstanding accomplishment. Recognizing the incredible effort they make is sure to inspire motivation for future successes.
If you're looking for the perfect plaque, look no further than our collection of custom-made options. Our team is ready to provide all the assistance necessary in order to find just what you need!
Shapes and Sizes for Your Plaque Awards:
When ordering custom plaque awards, you have the ability to choose the size and shape of your award. You can also select from a variety of materials – wood, metal, or acrylic – to suit any occasion. Additionally, by selecting a custom engraving service, you can personalize your plaque award to include a name, date, or message for an added touch of elegance.
Factor Depend on Choosing Plaquec Size:
There is an extensive range of plaque awards in a variety of shapes and sizes to choose from. The size you select for your award plaque should depend on several factors, such as:
The number of people receiving the award

The occasion or event where it will be presented

The amount of text or graphics to be included.

Plaque awards come in a variety of sizes, from rectangular to oval and from small to large.
The most popular size is 8″ x 10″. This is an excellent choice for most awards, as it provides enough room for several lines of text or even graphics.

For larger groups or longer text messages, you may want to consider going up in size.

An oval plaque award can also be a good choice if you're looking to add a unique touch, as it offers a slightly different look than the traditional rectangular shape.




For larger groups or for extra-special recognition, an 11″ x 14″ is the most popular size. This size allows for plenty of text and graphics, making it ideal for important occasions. For very special awards, you may want to go even larger.
Our turnaround time is fast, and there's no charge for engraving. If you think we can create it.
Discover the perfect plaque that reflects all your unique needs and desires. Our experienced staff at Championship Awards Group can help guide you to make it a standout piece!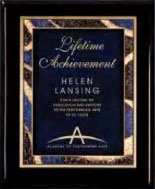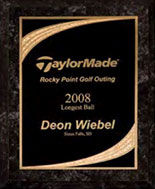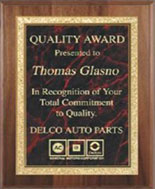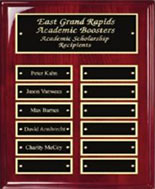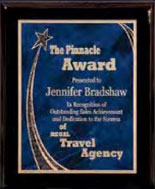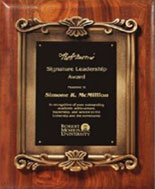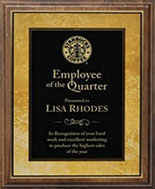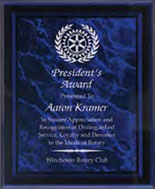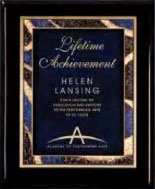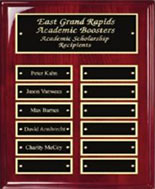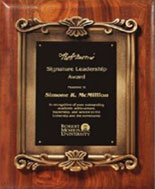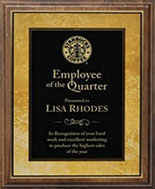 Contact Us
Do you have any questions or know what you'd like and want the get a quote? Feel free to email us and we'll get back to you shortly, or call us at our main number 732-251-6262 and speak to someone directly.
Catalogs
Browse through some of our top catalogs to get an idea of what type of Plaque you want. Our design team will help you customize a plaque the way you want it.